COVID-19 - Useful information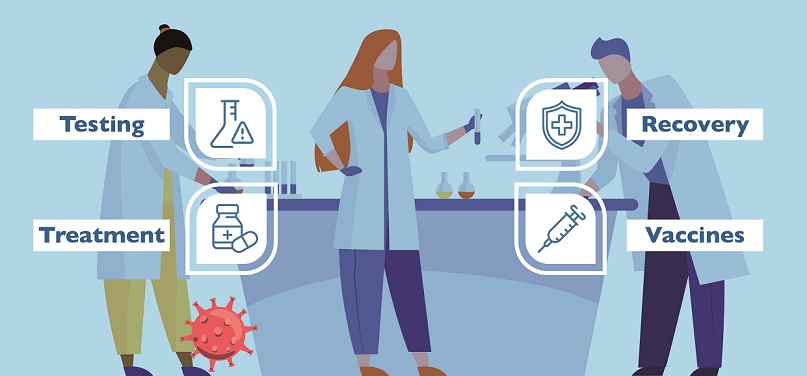 Brought to you by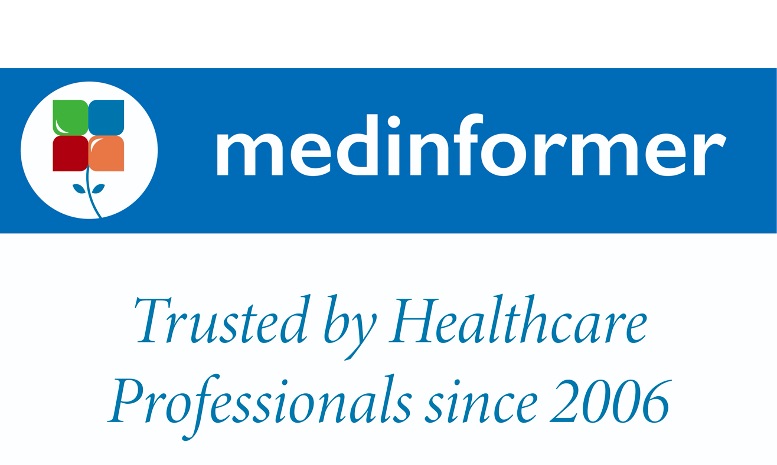 Back to top
General Information on the COVID-19 Pandemic
COVID-19 is a rapidly evolving disease; information may change as management of this disease develops and improves. Medinformer aims to bring you up-to-date information from verified sources. Last revised: 4 May 2021
The name corona refers to a crown because these viruses have crown-like spikes on the surface when viewed under an electron microscope1
COVID-19 is the name for the global pandemic caused by a coronavirus.1a This disease was first reported on 31 December 2019 by the World Health Organisation (WHO) following a cluster of pneumonia cases in Wuhan City, China.1b On the 7th January 2020, the causative pathogen was identified as a novel coronavirus (SARS-CoV-2).1b,2a
The virus can be contracted either through airborne droplets (an infected person without preventative equipment coughs/sneezes and airborne droplets are inhaled) or direct transmision, touching a contaminated surface and then transmitting the virus via hand-to-face contact.1c
It is unknown how long the virus survives on different surfaces (few hours up to several days), but if contamination is suspected, it is advised to wipe the area with a simple disinfectant to avoid transmission.5a
The disease can be divided into 'mild' disease, severe and critical:1d
80 % of those infected will have mild disease with symptoms similar to the flu,
15 % of those infected will have severe disease, and
5 % will become critically ill, requiring hospitalisation.
Risk factors for severe or critical disease include older age, frontline healthcare workers and people with pre-existing conditions involving the heart and lungs, obesity, HIV/AIDS and diabetes.1e,2b
Patients appear to be infectious (can transmit the virus) for 2 - 3 days prior to the onset of symptoms.1f The virus does not affect all people in the same manner. Some patients will show a variety of symptoms where others would be entirely asymptomatic (no symptoms).2c Confirmation of symptoms by a healthcare professional and a thorough travel and person-contact history is vital in order to determine if a COVID-19 test is required, if you need to self-isolate OR to quarantine.
The following symptoms justify seeking advice from a healthcare professional:2d,5b,6a
Cough
Fever
Sore throat
Shortness of breath
Headache / aches and pains
Loss of taste / smell
Fatigue / weakness
On the receipt of a positive test result, the following applies:
Asymptomatic patients or those with mild illness should self-isolate at home for 10 days.1g,h
Severely or critically ill patients may experience difficult or uncomfortable breathing, increased breathing rate, and low oxygen levels in the blood and will need close observation in hospital.1g,6a
Back to top
COVID-19: Self-isolation and Quarantine1i,j
Self-isolation
Self-isolation is the act of separating a sick/infected individual with COVID-19 (positive test) from healthy individuals.
Quarantine
Quarantine is the physical separation and activity restriction of a well person who has been exposed to COVID-19 through close contact with a confimed case while the confirmed case was ill or in the 2 days preceding illness onset.
Most people who contract the COVID-19 virus will recover through self-isolation, enough rest, rehydration and symptomatic treatment and can be de-isolated 10 days after testing or symptom onset.2f,g In a minority of cases, COVID-19 has been associated with rapid progression to acute respiratory distress syndrome, multiple organ failure and sometimes death.2e
There is no specific antiviral treatment available. Antibiotics do not treat viral infections. However, antibiotics may be required if a bacterial secondary infection develops. Patients will be supported with oxygen and treated for fever.6b
Back to top
What to expect if you have or are suspected of having COVID-19 infection?*3g
If you think you might have contracted the virus, you can call the NICD helpline (0800 029 999) and you will be advised on possible testing facilities. However, testing is not routinely done unless testing is indicated by a health professional therefore one would need to be assessed by your medical practitioner in order to qualify for testing.6c

Some patients initially assessed as having 'mild' disease may continue to worsen over the course of a week or more and become severely ill. Patients managed from home must have the contact details of their doctor or healthcare facility that they can reach out to in case of any clinical deterioration.2i
*The testing and management of a suspected case may change with time and according to national guidelines.*
Adhering to protocols is essential for the public, including those who were already infected with an older variant of COVID-19. Protecting ourselves through social distancing is not enough and all public health measures should be abided by:6d,7a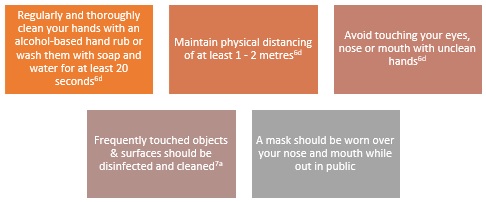 An asymptomatic person who is a close contact of a confirmed case may be tested in certain circumstances.1 Only patients meeting the criteria for a suspected case of COVID-19 or essential workers eligible for testing as per guidelines, will be tested.
For further information on TESTING FOR COVID-19, read further here.
Click here for updated information on Vaccines
For medical advice or further information, please consult your healthcare provider.
24-hour hotline number is: 0800 029 999
WHO – World Health Organisation; HIV/AIDS - Human Immunodeficiency Virus/Acquired Immunodeficiency Syndrome; SARS-CoV-2 - Severe Acute Respiratory Syndrome Coronavirus 2; NICD - National Institute for Communicable Diseases
Back to top
Stay updated with verified sources for information